Become a KinderGuitar teacher!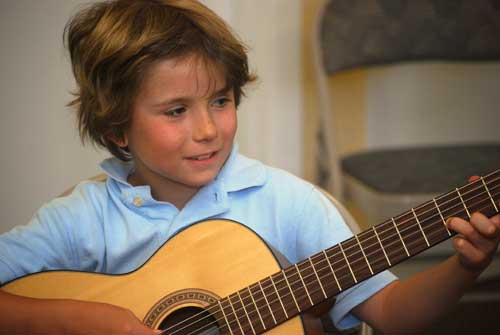 Teaching children has many advantages, aside from simply being fun and fulfilling. As a nurturer and educator, you will very likely have the opportunity to watch your first students grow as musicians and as human beings for several years, and often until they leave for college. Choosing to teach children rather than adults means choosing to teach more than just guitar. In a day and age when regular, extended one-on-one interaction with a mentor is rare, you are in a unique position to influence children positively and build long-term relationships with them. Nurturing what may be a child's first social foray into the world through music is a noble and wonderful responsibility.
KinderGuitar is offering licensing and certification to qualified educators and guitarists seeking to expand their teaching credentials and improve their skills for teaching young children. Whether you are just beginning your career or already have a teaching studio, KinderGuitar's Teacher Training will provide you with the skills, expertise, and reputation to succeed as a specialized teacher for children.
Applicants to the KinderGuitar Teacher certification and training program must meet the following requirements:
high-level proficiency on the classical guitar (other styles a plus)
enrollment in or completion of an accredited music program
commitment to building a strong, long-term student following
love for children
enthusiasm and positive energy
professional attitude
desire to work with children as both a mentor and educator
Read about the benefits of licensing and certification, teacher stories and the application process.