Curriculum
The curriculum guide will introduce you to the books and practices of the KinderGuitar method. Below is an overview of the main KinderGuitar teaching tools and the age levels for each, so you can see at a glance how the books will guide your growing child. The complete guide describes each book in detail, with sample pages showing the musical skills and techniques your child learns at each level. View the complete Overview of KinderGuitar Curriculm here as a PDF.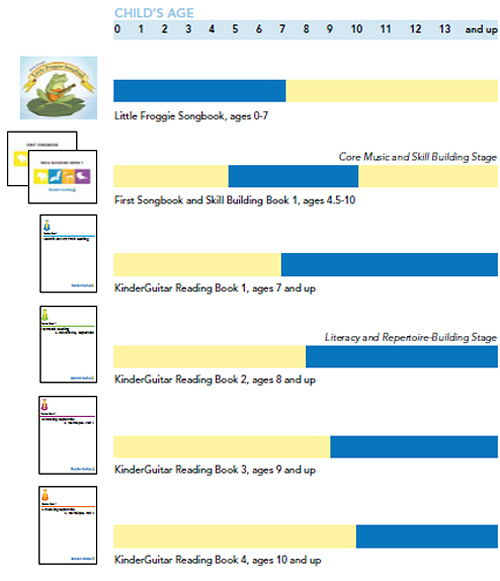 Small Group Classes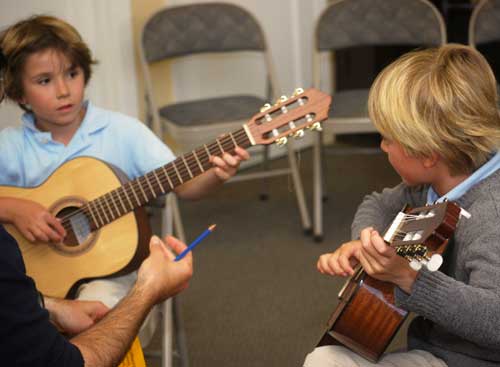 KinderGuitar uses small group classes to reinforce music's social component, create a sense of community, and enable fun music-related activities.
Playing music with lesson partners offers many benefits to students. First, the intensity of a private lesson is rarely suitable for the youngest children and a child's first experience with lessons is usually much more positive and fun with a peer or even, when possible, a friend. Second, the group dynamic enhances solo playing as students can learn from each other and benefit greatly from having a small and trusted audience when playing their solo pieces. Third, playing part music as a group enables students to learn from each other, to recognize strengths and weaknesses in their playing, and ultimately to develop life skills. Furthermore, children in the early stages of music learning find great satisfaction and joy in creating something larger in scope (through playing parts) than is possible with their own rudimentary skills alone. Simply put, playing in a group allows children to have fun, and fostering the enjoyment of music is one of KinderGuitar's primary goals.
Instruments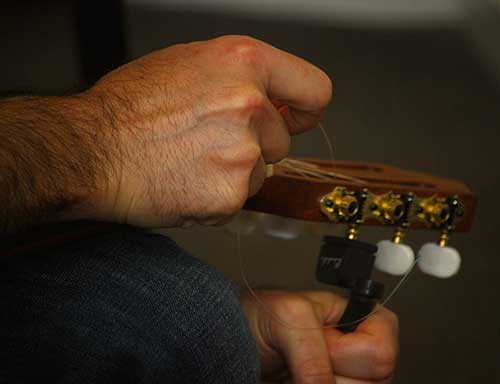 The two most important ingredients for your child's music making are a teacher who understands how to work with children and age-appropriate material. For this latter requirement, child-size instruments are necessary to ensure success. Removing unnecessary obstacles yields less frustration for both student and teacher, and having a five year old stretch their tiny hands to learn on a full-size instrument is conducive to failure. Nylon strings present less of an obstacle than steel strings as steel strings (due to the high tension and thin gauge of string) can damage small and sensitive fingertips. Therefore KinderGuitar requires students to use nylon stringed child-size classical guitars.
Consult with your teacher for proper sizing but here are some guidelines:
Ages 4-6 – 1/4 size guitar (about 450 mm scale length)


Ages 6-8 – 1/2 size guitar (about 520 mm scale length)
Ages 8-10 – 3/4 size guitar (about 560 mm scale length)
Ages 11+ – 7/8 size (620 mm scale length) or full size (650 mm scale length)
Cordoba's Iberia Guitars have recently become KinderGuitar's Brand of Choice because of their quality construction, perfect set-up, and beautiful sound.
Classical Technique
Although the KinderGuitar curriculum could be used with any type of guitar, it is intended for use with classical guitars and classical technique. Through classical guitar technique children establish optimum hand positions, which ultimately provide them with the most flexibility when playing melodic, harmonic, or multi-voiced music. Because classical guitar technique requires right hand fingers (not picks) to produce sound, children have a direct tactile relationship with the instrument: their fingers touching and pulling through the strings to produce sound. Beginning and learning the guitar in this way ensures that children build a natural, immediate, almost intuitive relationship to the raw material required to make music wherever their tastes may take them.
Our Teachers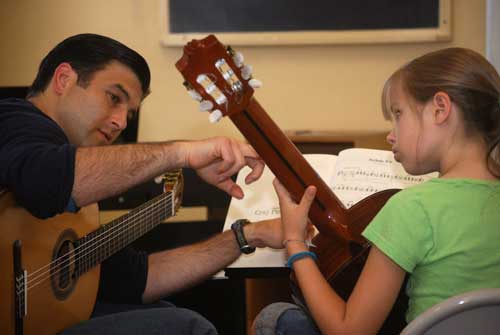 KinderGuitar teachers are a select group of highly skilled guitarists who have undergone specialized training, setting them apart as educators of young children. Our teachers are kind, empathetic, energetic, and most importantly, know how to effectively teach children. When you enroll your child in a KinderGuitar class, not only are you embarking on a journey of musical exploration with your child, you are embarking on this journey with a guide who will make sure your journey is fun and full of learning.