Our licensed and certified teachers have undergone and successfully completed KinderGuitar teacher training, are passionate about early education, and are exemplary teachers. To become a KinderGuitar teacher, see the 'For Teachers' section in this website.
_____________________________________________________________________________________________________________________________
Leo Garcia – Oakland, CA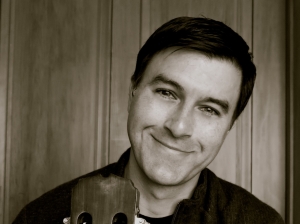 Described as "a faithful interpreter of Mangoré's musical art" by Alirio Diaz and as "intelligent, musical, and technically impeccable" by Eliot Fisk, Leo Garcia is an award-winning classical guitarist, recording artist, author, and sought-after educator.
As a performer, Garcia has performed across North America, South America, and Europe as both a soloist and as a chamber musician. As an educator, he has worked with hundreds of children and families for over 20 years through KinderGuitar. He has authored over 10 curriculum books for KinderGuitar, several editions of music by Bach and Narváez, numerous books on guitar technique, and his writings have appeared in Guitar Review, the KinderGuitar blog (kinderguitar.com), and Six String Journal (sixstringjournal.com). He has acted as jury member, performer, and lecturer at musical festivals such as the Bay Area's Junior Bach Festival, the Boston Guitar Festival, the Yale Guitar Extravaganza, the San Francisco Conservatory of Music, and the Guitar Foundation of America's International Festival.
Garcia grew up in Venezuela but left to pursue higher education in the U.S., eventually earning a B.A. in economics from Yale, an M.M. and Artist Diploma from the Yale School of Music, and a Graduate Performance degree from the New England Conservatory, before founding and developing the KinderGuitar music education system. The success of KinderGuitar led quickly to its expansion, and now with three San Francisco Bay Area locations and one in New Mexico, KinderGuitar offers training and licensing to highly qualified aspiring educators to help them create successful and sustainable music-teaching studios for children in their communities.
When Garcia is not practicing he enjoys running, reading, hiking and cooking with his wife, Maya, and his two boys, who are also guitarists, Max and Charlie.
"García's stage presence is riveting, but at the same time he can take the audience into his confidence like a trusted friend. The audience was spellbound as he performed the music of Villa-Lobos, Barrios, Dyens, and Piazzolla" – Piedmont Post November 2019
Please contact him at leo (at) kinderguitar (dot) com.
_____________________________________________________________________________________________________________________________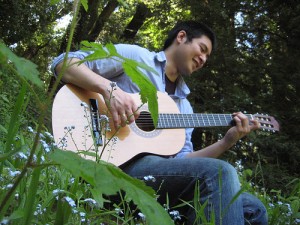 Improviser, composer, and guitarist Karl Alfonso Evangelista was born in Van Nuys, California, USA, on April 28, 1986, the son of two Filipino immigrants. His music explores the intersection between improvisation and composition in a multicultural, transidiomatic social space. Evangelista performs in an improvising trio with saxophonist Francis Wong and bassist/vocalist/percussionist John-Carlos Perea, the quartet Host Family, and the duo Grex with partner Margaret Rei Scampavia, and has studied under many of the chief figures in modern creative music, including India Cooke, Fred Frith, Myra Melford, Roscoe Mitchell, and Zeena Parkins. He received his BA in Social Transformation and the Development of 20th Century Artforms at UC Berkeley, CA, USA, and has recently completed his Master of Fine Arts in Improvised Music at Mills College, CA, USA.
"Karl completed the KinderGuitar teacher training successfully in the spring of 2010. Already a wonderful and highly recommended teacher, Karl has honed his understanding of the KinderGuitar curriculum, of working with young children, and of making their first experience with guitar and music fun. Children are lucky to have such a kind, intelligent, and knowledgeable educator guide them through KinderGuitar's curriculum."  -Leo Garcia, KinderGuitar Founder
New classes are now forming. Contact Karl: karl (at) kinderguitar (dot) com
_____________________________________________________________________________________________________________________________
Eli Wise – East Bay and Oakland, CA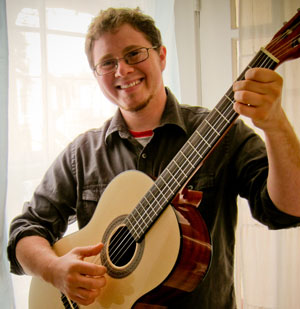 Eli Wise is a local singer/songwriter and educator with over fifteen years playing and six years teaching  experience. His background is primarily in folk / rock music and he has recently begun integrating the KinderGuitar method into his teaching studio.  He has been thrilled with the results! The method is wonderful for all guitar students as it teaches technical proficiency and musicality through progressive, rewarding and most importantly fun material.  In addition to KinderGuitar, Eli teaches elementary music at Kaiser elementary, Avant Tot, and private lessons at Freelove Music School.  He has two summers of Orff training from the San Francisco School, his MA in music Composition from Mills College, and his BA in Music Composition from Wesleyan University.  When he is not busy teaching, he is the front man for The Eli Wise Band, a post-folk/rock quartet that is currently recording its second studio album.
"Eli is an intelligent, articulate, and passionate educator. Eli became a licensed and certified KinderGuitar teacher this fall and throughout the teacher training process Eli's insight and love for his work as an educator was wonderful to witness. It is clear that Eli has a talent for connecting with children and it's this talent that sets him apart as an educator. In addition to being personable and kind, Eli also has a deep desire to bring out the best in his students." -Leo Garcia, KinderGuitar Founder
Eli's new KinderGuitar classes are forming at The Freelove Music School near Piedmont, North Oakland, and Rockridge neighborhoods. Contact Eli: wisemusic5 (at) gmail (dot) como Do
_____________________________________________________________________________________________________________________________
Rodney Burr – Albuqerque, NM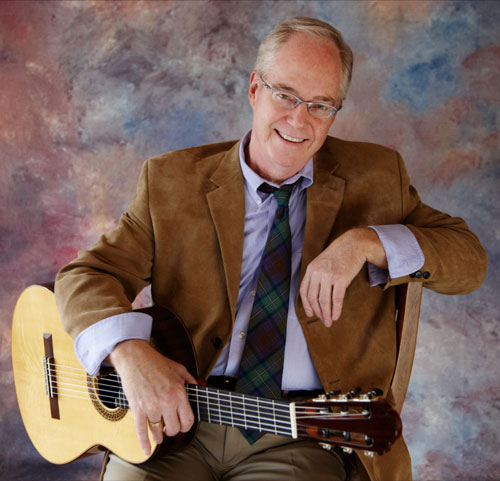 RODNEY BURR has been playing the guitar for 44 years. At the age of 13 he took his brother's Stella guitar and learned to play by watching a summer series from KQED, Laura Weber's Folk Guitar. This tied into the same year that Mason Williams premiered his remarkable piece Classical Gas on the Smothers Brothers Variety hour that alone was impetus.
As a budding guitarist the classical genre was new to him. He started studying with Ron Grosswieler of Denver and performed his first recital at the age of 14 playing Carulli and Sor duos. With a stint in a rock band and the waning ideas of a music career, he chose to seek other ways to make a living, however, the guitar was still a focus. Through studying with Paul Nielsen, Patricia Brothwell, and Hector Garcia (Emilio Pujol's teaching assistant), in Albuquerque, New Mexico, year to year, the focus was the same: beautiful music with refined technique and a pure velvety sound.
[KinderGuitar New Mexico website]
"Rodney completed the KinderGuitar teacher training successfully over the course of the summer of 2011. A fine and dedicated classical guitarist, Rodney is eager to build community and share his infectious enthusiasm for his art through education. Throughout the teacher training, Rodney's meticulous attention to detail allowed him to develop and hone his understanding of the KinderGuitar curriculum quickly. Children will be lucky to have Rodney guide them through our curriculum and with his decades of experience, is in a unique position to mentor those young students embarking on their own musical adventures." -Leo Garcia, KinderGuitar Founder
_____________________________________________________________________________________________________________________________